HOW SEPHORA TOOK CREATIVITY TO THE NEXT LEVEL USING DIRECT MAIL
Unusual means not common and that certainly describes a recent mailing by Sephora, a cosmetics chain, who sells beauty products such as makeup, perfume, haircare, and skincare. Why is being unusual so important? To break through the mailbox clutter, standing out in any way possible can enhance your mailing's chance of being viewed. Let's take a closer look at this direct mailer example.
Unique Mailer Format
The best part – there was a 4.75" x 6.75" brochure that unfolded to 14.5" x 20.25", a 4 7/8" x 6.75" 24-page booklet, a 3" x 5" sheet with gift tags and eight 4 7/8" x 6 3/4" cards. All the items were mailed in a poly bag.
Mailer Design
So creative! Let's look at each of the components individually: the brochure was designed with images of wrapped packages on one side and was meant to be used as wrapping paper. The other side of the brochure highlighted Sephora gift boxes. The booklet was titled "Reach out and gift guide" and had a festive red cover as well as photos of many gift ideas.
The gift tags were whimsical with lines such as "wanted this for me but I got it for you" and "Remember how we said 'no gifts'? I lied". The eight cards were made up of several kinds: first, there was a card with a business card size 20% off coupon tipped on. Next, Sephora included two cards – one mentioned gifting fragrances and the other suggested gift cards as a great gift. The last five cards had a photo of a fragrance bottle or bottles on one side and the second side had one or two fragrance samples attached.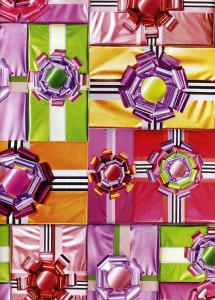 Printing and Paper
The eight cards were printed on cardstock and the booklet and brochure were text weight. Combined, all items were a bulky package, another great way to get noticed.
Presentation
The special packaging was a poly bag which worked well for this mailing since there were so many pieces to the mailer, there was no way it could all have fit into an envelope. A polybag was effective because it was clear, and the end user could see the inside sheets.
Purpose
Sephora is using this mailer to drive holiday business of all kinds – but promoting gift sets and fragrances. The coupon is valid November 10-15th although more frequent Sephora shoppers actually had the weekend before as well to use their coupon.
Offer and Call-To-Action
The offer was a 20% coupon to be used during a certain time. The call to action was to use the coupon in-stores or online. Sephora included gift ideas in the mailing so would expect to see a sales increase for those items.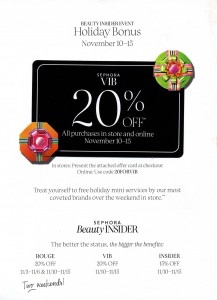 Digital Technology Integration
None but none was needed. Instead, there was the tipped-on card and fragrance samples, so it was a different type of integration. One suggestion would be for Sephora to include a QR code next to each of the gift sets which could take the consumer to a landing page talking more about that gift set.
Personalization
This mailer was sent to Sephora's loyalty program recipients, and it was personalized by coupon amount and valid dates.
Ritter's Conclusion
Overall, an amazingly creative, interactive mailer. It was a great use of free fragrance samples (something most consumers would not buy without smelling first). Loved the variety of pieces and it was genius to make the brochure do double duty as wrapping paper.
CREATE YOUR OWN UNIQUIE DIRECT MAILER
If you're considering adding direct mail to your marketing strategy, talk to an expert about your options. Ritter's Printing & Packaging has over three decades of experience helping businesses like yours create stand-out direct mail that gets results.
Ready to reach more customers with unique direct mail solutions? Call Ritter's today at 954-771-7204 to speak with someone on our team.