The United States Post Office (USPS) recently sent us a mailing that not only checked off the boxes for best practices but was visually interesting. Attractive artwork can have a huge impact on whether or not your mailing gets opened. Let's take a closer look.
Format: The mailing campaign consisted of an oversized envelope that contained an 8.5" x 11" sheet with a 4" x 6" postcard tipped on to the sheet.
Design: The main color throughout was the USPS blue. The envelope was printed full color with some text reversed out in white. It was mainly a solid blue on both sides. Besides text, there was a colorful design. Visually, the envelope was absolutely beautiful. There was just the right amount of teaser copy and symbols for the type of recycled paper used in its printing. The inside sheet was printed in the same blue along with the same colorful design. There was more text and a creative diecut that the user could fold up into a megaphone. The design was very creative and interactive. The megaphone had facts and integrated direct mail tips on both the inside and the outside. There was a business reply postcard (BRC) tipped on to the sheet that was pre-filled out with the name and address of the recipient. It was meant for the end user to answer a few questions and return back to the USPS. Great idea to tip on so the BRC would get noticed.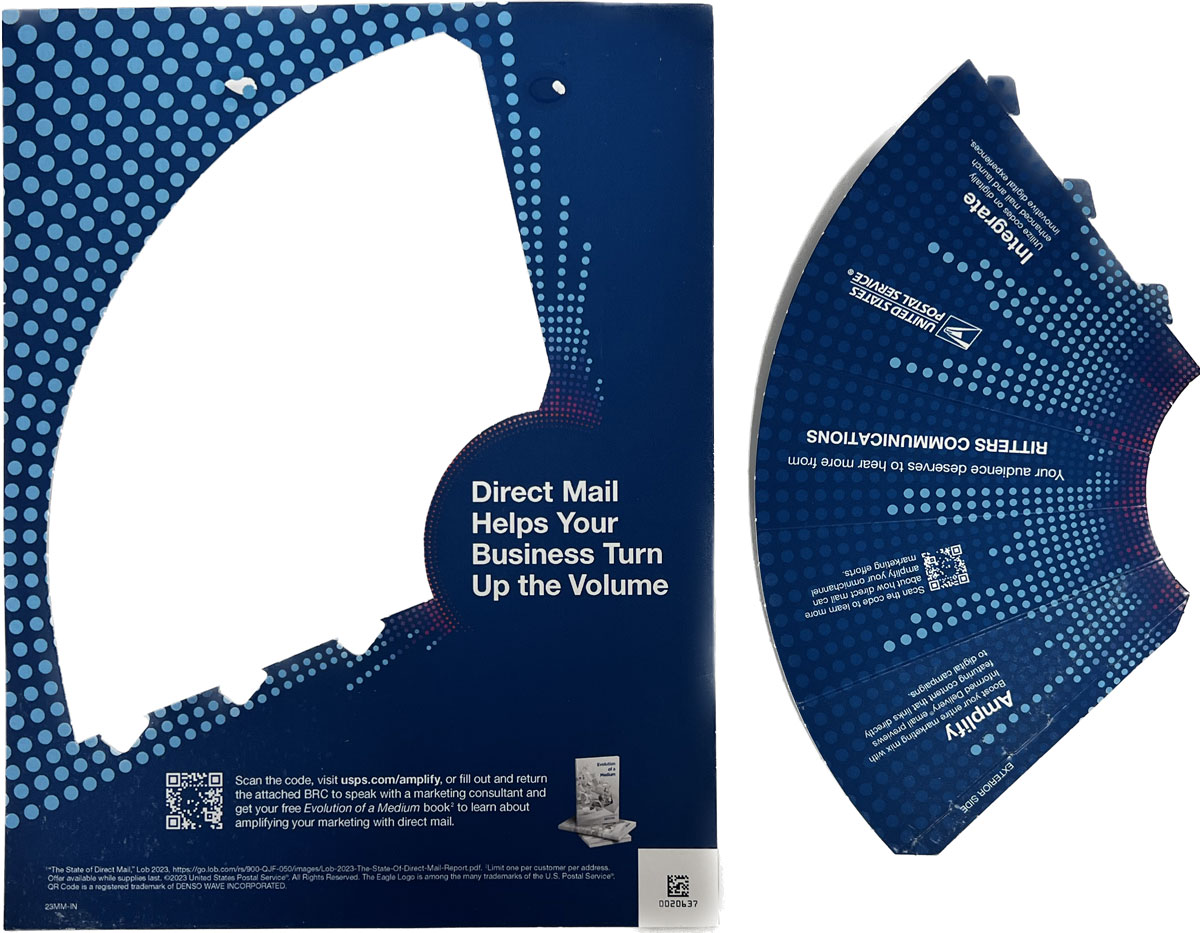 Printing and paper: All three items were printed full color. The envelope and sheet had soft touch aqueous coating and the envelope also had gloss aqueous on the colorful design. The soft touch coating adds a luxurious feel to the envelopes and inside sheet. This tactile finish adds to the uniqueness of the mailing. The inside sheet and BRC were printed on cardstock.
Presentation: This was a case of a direct mail campaign done well. I was very impressed with the outer envelope. The design and teaser copy were more than enough to get me to open the envelope and look inside.
Purpose: The USPS is trying to get more people to use direct mail marketing.
Offer and call to action: The offer is to receive a complimentary copy of the USPS book Evolution of a Medium and also the opportunity to talk to a USPS marketing consultant. The book is a great direct mail resource meant to educate the end user on direct mail facts and how direct mail has evolved. It includes many real-world examples of how to integrate additional channels and features to direct mail to make campaigns more successful.
Digital technology integration: The USPS used QR codes in several locations on the inside sheet. The QR code takes the user to a web page where they can fill out information to receive the book and consent for a USPS representative to contact them.
Personalization: The mailing was personalized in several areas: the BRC had the recipient's name, company name and address pre-filled in. The megaphone had the recipient's company name listed on both sides. Very well done.
Spending more time and money on the design of your direct mail campaign may very well net you a higher ROI. Direct mail has a big advantage over other channels: the opportunity to get the piece in your target market's hands – something other channels are unable to replicate. Let's consider some best practices for designing direct mail that has an impact:
Best Practices Guide for Direct Mail That Gets Results
To attract new customers, promote discounts, or capitalize on a peak season, there are some best practices to consider with direct mail campaigns. Follow these pillar insights when developing your direct mail and messaging for the most effective results and ROI.
Know Your Audience
It's important to recognize who your target audience is so you can craft your direct mail pieces using appealing graphics and language.
Keep Designs Clean and Simple
Some of the most brilliant direct mail campaigns feature simplistic and clean designs. Too much text or graphics can overshadow your intended message or call to action. So, keep it simple and easy to consume.
Use High-Quality Images, Always
How an image looks on your computer isn't always how it prints on card stock for direct mail. Be sure any images you use with your print projects are high-quality vector images for crisp colors and sharp lines throughout.
Create a Catchy Headline
Craft an attention-grabbing headline that piques the interest of your direct mail recipient. Your targets should immediately be able to tell what the direct mail piece is for and want to continue reading your offer.
Use High-Quality Paper Materials
Make your direct mail piece appealing in the hands of your recipients with high-quality paper or heavier-weight stock materials. Choosing a discount material or economy-priced paper could send the wrong message and not stand out from other pieces of mail.
Tie in a Testimonial or Two
Nothing inspires a prospect to take action more than an authentic testimonial. Be sure to include one or two client testimonials with your direct mail campaign, signaling to new customers just how great your offers, services, and products really are.
Proofread Your Content
Before you officially launch your direct mail campaign, take another look at your content and messaging. Proofread and ask others to proofread with you to spot and correct grammatical errors that could send the wrong signal about your business.
Monitor the analytics & results
Once your direct mail campaign is in motion, keep up with the analytics and metrics. Track your results including new calls, website page visits, and online inquiries. Use these insights to perfect your future campaigns.
Personalization
Personalize your direct mail campaigns so the offers and messages resonate with your recipients. Addressing them by name or highlighting specific concerns they may have can strengthen your connection with them. Customization is key and a trend that continues to be important for direct mail success.
Direct mail campaign services
For additional insights for starting, designing, or executing your direct mail marketing campaign, trust Ritter's Printing & Packaging! Our experienced team has been delivering high-quality and results-driven printing solutions since 1988. And we're just a phone call away – call 954-771-7204 to discuss your direct mail or print project today.