In today's world, consumers have increasingly high standards and expectations. And with more and more companies are understanding that high-quality products and exceptional customer service are essential, how can you make your company stand out from the competition?
You enhance your customer experience.
Valet parking is one way to add a layer of luxury to the customer experience you offer your clients. Valet parking tickets streamline this service to eliminate confusion, ensure transparency, and increase customer trust.
Read on to learn how to design custom valet parking tickets that are as eye catching as they are functional.
What to include in a custom valet parking ticket
The amount of information you choose to include on your custom valet parking ticket depends on several factors, including the nature of your business, the type of valet tickets you use, the size of your parking lots, and the number of locations your company operates.
Consider including the following in your ticket design:
Your company name
Make it easy for your clients to remember who went above and beyond with clear branding elements like your company name and logo. This is important whether you include valet services within your company, or you use a third-party valet service provider.
Valet services form part of the whole customer experience you offer your clients. To create a cohesive brand image, consider your valet tickets as part of your branding.
If your company has several locations, you can include location information on your parking ticket. That way, if you receive praise or criticism from clients, you know which team they're referring to.
The ticket number
The ticket number is included on the claim ticket (which the vehicle owner keeps,) the parking ticket (which your business keeps,) and on the optional vehicle ticket (which stays with the vehicle.)
Unless you manually capture clients' license plates and contact information, the ticket number is the only way to link your client to the correct vehicle after it enters your premises. Since manual data capture is time-consuming and leaves room for human error, it's impractical for most businesses.
Ticket numbers are also helpful when tracking how many vehicles enter your premises at any given point. For example, if Mondays are always the busiest days of the week, you know to schedule more valet workers on Mondays to keep up with that demand.
The date
Including the date on ticket items has become common practice. It helps clients stay organized by helping them remember when they dropped their vehicle off or when they last visited your location.
Including the date is also helpful for accounting purposes when your valet services are paid. Clients can easily track when they spent money on your valet services
Having a clear date ensures you won't be under or overpaid by your clients when you're dealing with long-term stays.
Finally, including a date is important for security reasons. If something goes wrong with a client's vehicle, you know when to start reviewing security footage.
Contact details
Make it easy for your clients to contact your business with questions, concerns, and compliments by including clear contact information.
Some companies also include useful emergency contact numbers on their valet tickets for customer convenience.
You will also want to capture your customer's name, make and model of their vehicle and license plate number.
Claim Check
You might include a QR code for customers to scan so they can pay and request their vehicle.
Address
Your custom valet parking ticket acts as a business card for your company. After using your services, clients might keep their ticket and use it to find your business again in the future. They can also use it to recommend your services to their friends and family.
Addresses are also useful to help your client navigate their way back to your premises if they're in an unfamiliar city.
Parking bay details
If your premises have multiple entrances and parking bays, it's important to distinguish between them. Include clear details about the location of your client's vehicle on your parking tickets. This helps the attendees find the vehicle promptly when required.
Including parking bay details also gives your client peace of mind while they use your facilities because they know exactly where their vehicle is parked.
Time in and time out
Time-in and time-out information is more for your sake than your clients. It's useful for knowing which workers were on duty when the vehicle came in or out.
This information also acts as proof that the car left the premises and was no longer your responsibility.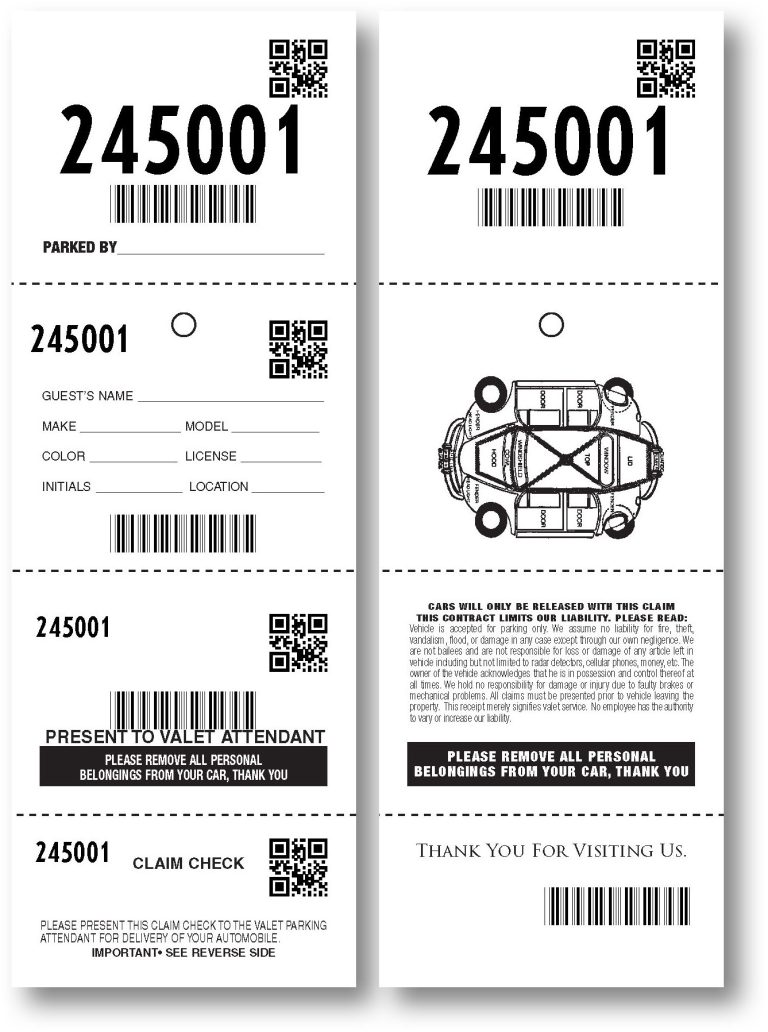 Your company's motto or tagline
Although entirely optional, it can be nice to include your company motto or tagline. This builds your brand persona so your clients become familiar with you and your values.
Terms and conditions
The last thing to include on your custom valet tickets is terms and conditions. Ts and Cs play an essential role in the legality of your valet services, and they keep your company and employees safe and protected from liability. Many tickets include an image of a car to document pre-existing damage
Terms and conditions also make your business seem legitimate and trustworthy while keeping your clients informed.
Custom valet parking tickets from Ritter's Printing & Packaging
There's a lot to consider when designing custom valet parking tickets, but the process doesn't have to be difficult. At Ritter's Printing & Packaging, we make it easy for companies to create a consistent and successful brand image. Custom tickets and tags elevate your brand to provide a layer of luxury and sophistication. If you're ready to upgrade your brand image with custom valet tickets, contact our team at 954-771-7204 to get started.