What is a box sleeve? Also known as a carton sleeve, belly band or packaging sleeve, they are a printed piece of cardstock paper that wraps around an item such as a sealed container or box.
Why do you need a box sleeve? It's a great way to help with branding, and messaging and can include relevant information like cooking instructions, ingredients, product information, and more. Box sleeves can be less expensive than custom printing a box. This lower cost allows a company to experiment and test different artwork, or make special holiday sleeves.
It's easy to use a box sleeve: just slide it over your package, and it's ready! The creative options available are endless: companies can choose from different papers, inks, colors, designs, and embellishment options, including recycled paper, full-color printing, embossing, foiling, and die-cutting.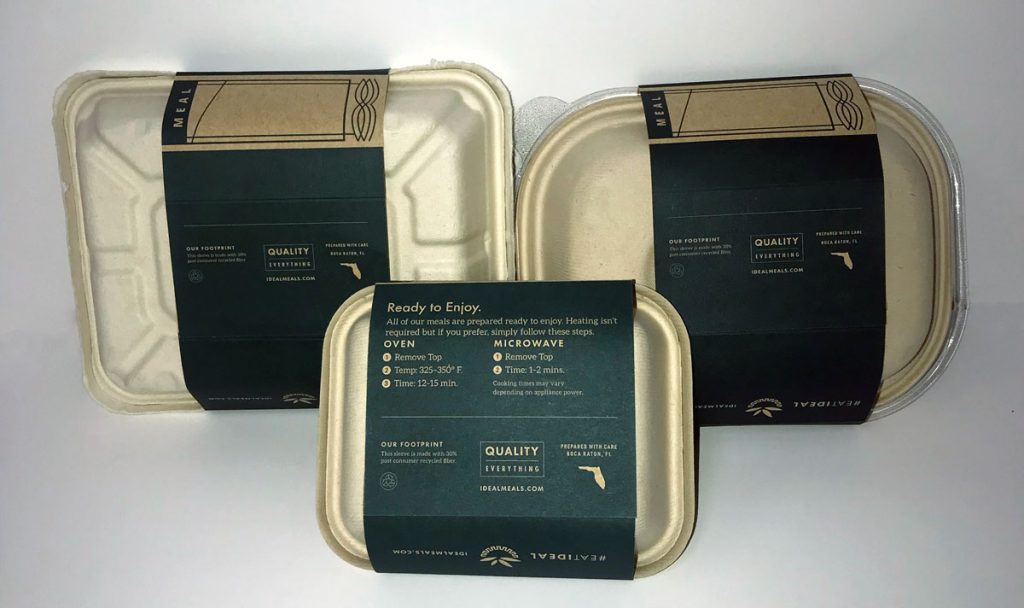 Products that use box sleeves
Examples of products that use box sleeves include personal beauty items, such as soaps, skincare, and shaving products. Box sleeves are also used on clothing, such as dress shirts, packages of socks, and hats and can be found on refrigerated, frozen and to-go food packaging.
What makes up a box sleeve?
Let's take a look at some sample box sleeves by a food delivery company:
Paper: They used a sustainable paper: 80# Mohawk Loop cover, straw.
Inks: Oxidizing PMS ink and an aqueous coating, so it dries on this difficult substrate.
Size: 4.125"x17" with a flattened size of 7.75" x 4.125".
Printing: The company printed several different versions of the band. They all included common elements, including information about the company's footprint: that the sleeve was made with 30% post-consumer recycled fiber, the company website, where the product was prepared with care, and a hashtag to follow product news and sales. Other versions included heating instructions.
Finishing: This packaging sleeve had seven scores and permanently glued a 1" flap to create a sleeve that folded flat.
Advantages of a box sleeve
A box sleeve is a great option for branding your product and a well-designed and professionally printed sleeve can display the features and/or ingredients of the product to consumers. Some other advantages of a box sleeve include:
Box sleeves are more sustainable
In a world full of plastic, which cannot always be recycled, consumers are likely to choose sustainable packaging. A cardboard box sleeve is not only recyclable but uses less material than a standard cardboard box meaning it is also less expensive to produce.
Box sleeves are easy to open and close
Many plastic packages can be difficult to open, which can be frustrating, especially for the elderly or someone with mobility issues. Box sleeves are easy to open and close, as they simply fold neatly, improving their functionality.
South Florida printing company
Ritter's Printing & Packaging understands the importance of attractive, professional packaging. We can create quality box sleeves for your products, as well as sustainable folding cartons, professional labels, and more. Call us today at 954-771-7204 to learn more.