A dull label is the last thing you want potential customers to see when they first encounter your brand. Using vivid, bright colors on prime labels to communicate key information in an eye-catching way and reflect a positive brand image is crucial to the success of your product. One of the best ways to achieve this is to use an expanded color gamut.
A strong shelf presence makes all the difference
Why is it important to use a digital printing process which can provide the optimum color range for your labels? The 'look and feel' of a product on a shelf is a key factor influencing consumer decisions. Your product's label may be the only opportunity you have to market it to a consumer who hasn't heard or read about your product through other channels.
Additionally, because labels communicate vital information about the product to customers, they play an important role in building consumer trust and awareness. An effective label design might even create an emotional response in the consumer.
However, using a unique and attractive design is only part of what makes a label effective: imagine if all labels were black and white!
Why are eye-catching prime labels so important?
In the printing industry, a 'prime' label is the term used to refer to labels which are used on consumer products. They provide not only brand information but product descriptions, nutritional value, ingredient lists, usage instructions, etc. Prime labels are generally used on the following product types:
Food, particularly non-perishables, pre-packaged perishables and frozen food
Beverages, including beers, wines, spirits and soft drinks
Cosmetics and other health and beauty products
Personal care and toiletry products
Pharmaceuticals and nutraceuticals
Household goods, such as cleaning supplies, candles, and pet products
When consumers look at store shelves, they're faced with hundreds of products vying for their attention. Having an attractive, eye-catching label that stands out from the rest gives your product a better chance of being the product that is ultimately bought.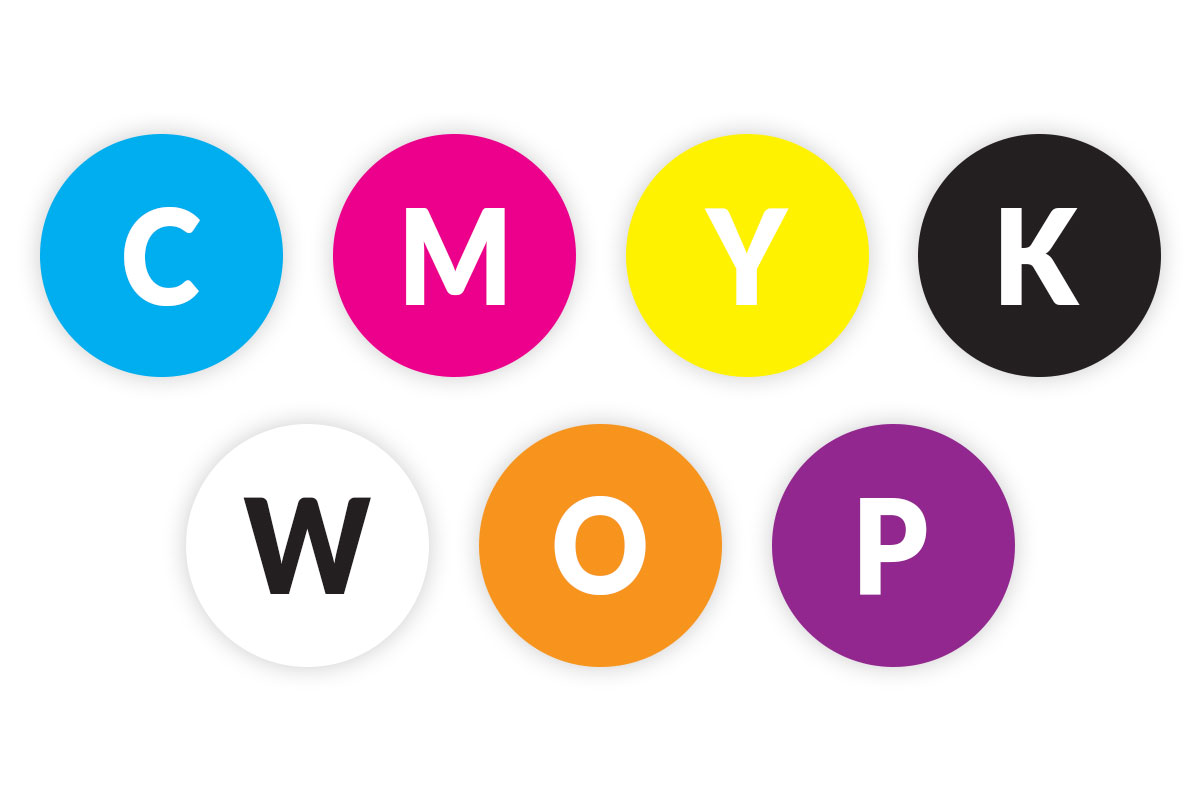 What makes digital label printing different?
There are two common processes used in prime label printing: standard 4-color process printing and then 6 or 7 color expanded gamut printing. The expanded gamut printing process is an improvement on 4-color printing, also known as CMYK printing. CMYK uses a blend of Cyan, Magenta, Yellow, and Key (black) to create a full color palette.
CMYK printing provides a limited color range or 'gamut': because when mixing 4 colors there are limitations when trying to achieve certain shades. The human eye can detect a much wider color gamut than what is achievable with CMYK printing alone. Though this has and still is the standard for designing artwork, there are newer and lower cost options that allow you to push past the norm.
In contrast, expanded gamut printing can use 6 or 7 ink colors. These additional colors such as white, orange, and violet, add to the standard four CMYK colors to extend the color gamut. In other words, it allows you to mix more colors together and be able to hit some of the harder to print colors like cherry red, bright orange, and reflex blue. It also makes photos and skin tones more realistic which all help your prime labels stand out on the shelf.
Digital printing means you can have new prime labels printed in days, not weeks, like conventional flexo printing. You no longer have to pay for expensive printing plates because digital printing uses no plates and requires much less material waste in the setup process. This means your labels are also more sustainable.
What is an extended color range?
In the printing and design industry, the Pantone Matching System (PMS) is a standardized system that helps printing companies and designers control, match, and specify particular colors which they wish to reproduce (whether digitally, on paper, or on some other material). The more a printer can produce the full range of colors in the PMS, the more vibrant the printed label will be.
The standard CMYK printing process can only produce about 55% of the colors in the Pantone system. In contrast, 7-color printing can produce up to 98% of these colors. This makes it much better suited to producing a specific color hue, and a brighter, more saturated color array overall.
What are the advantages of 7-color label printing for your brand?
If you want to ensure that a specific color hue – i.e. burnt sienna, midnight blue, or royal purple – is achieved in the printing process, then expanded gamut printing is the way to go. Of all the available printing processes, it is the best option available to help you create your envisioned brand aesthetic.
The image and text which it produces also has a higher resolution. This means that texts and images which are printed with this method tend to be sharper and cleaner, with crisp rather than bleeding or fuzzy edges. This is an important factor to consider when printing prime labels, which often have a lot of text and which rely on a leading image or logo to stand out.
Digital label printing also works well with a range of label finishes and materials, such as plastic, vinyl, and paper. Giving your label a glossy finish will help its vibrant colors to 'pop' even more. By combining a good quality finish with a wider color gamut, you'll ensure that your product's branding looks professional and is distinctive and aesthetically appealing.
Look no further for your printing and packaging needs
At Ritter's Printing & Packing, we have years of experience in providing custom prime label printing services to our valued clients from a range of industries. We offer 7-color label printing for clients who want their prime labels to stand out from the competition.
Our printing team will work with you to help you achieve the perfect color and finish for your product. Give us a call today at 954-771-7204 to find out why we're the printing and packaging company of choice in Fort Lauderdale.