When it comes to custom packaging, it's crucial to recognize that the printing process is just as important as the design process. A visually appealing design is essential in making your product stand out from competitors but it's equally important to establish a consistent printing process to bring your vision to life.
One of the essential steps in this process is creating accurate dielines. If you are getting ready to package and print, it's important to understand what dielines are and how they work. By giving attention to the printing process, you can create a truly cohesive and visually striking package that accurately represents your brand.
What is a dieline?
Simply put, it is a guide for your custom product packaging. Dielines are vector-based files that represent a flattened version of your final packaging design. They provide guidance for making cuts, perforations, folds, and indentations in the die-cutting process, allowing you to construct your packaging with accuracy. Consider it a blueprint for the die-cutting process that shows:
Cut lines
Fold lines
Bleed lines
Creases
Dimensions
Logo, text, and image placement
Safe zone (how the printer will know where to print)
Consider your packaging elements
Before proceeding with the printing process, you need to consider different elements of your packaging and how they affect your dieline.
Size
The size of your custom packaging should be determined by the size of your product. Ensure that your chosen packaging size is not too large as the dieline will be printed on sheets that fit the printer's industry-standard size.
Weight
Weight is the thickness of the packaging's paper, card stock, or cardboard. Heavier products may require thicker-weight packaging to provide adequate protection and this will affect the type of dieline you will need.
Creating a dieline
Once you have determined the necessary details for your packaging, the next step is to create a guide that the printer and die-cutting machine can read. If you are working with a custom packaging company they may have a dieline if your item is a standard product. .
It's essential to understand what the different lines mean to ensure the accuracy of the final product.
Cut lines – indicates where the packaging should be cut
Fold lines – indicates where the packaging should be folded
Bleed lines – indicates the boundary where the graphics, colors, etc. should extend to
Safe zone – indicates the areas that will be visible on your packaging
Glue tabs – indicates where glue should be applied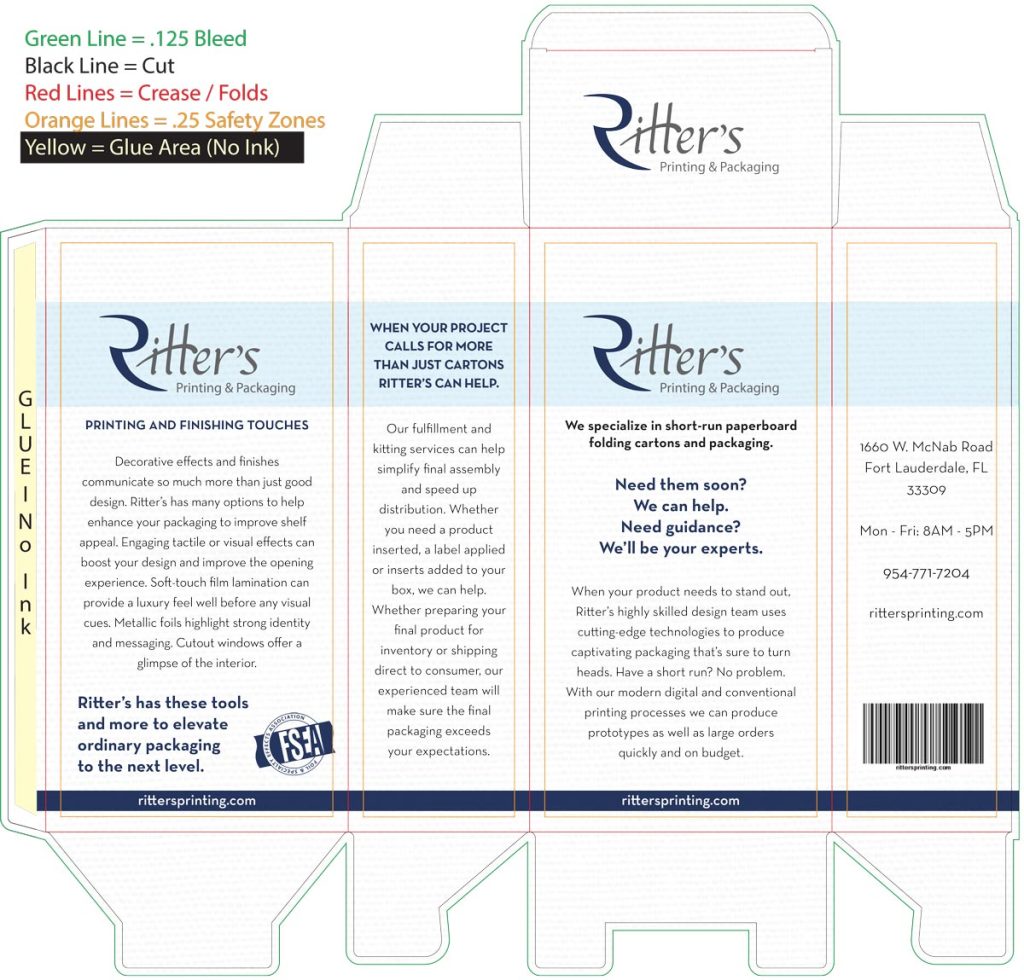 Packaging design
By now, you should know how the dieline will look on your packaging so it's time to design and adjust the artwork, logo, and typeface. You'll need to create a design to fit the packaging dieline, which will be shown in the guides created by the lines mentioned above. Always remember to consider the cut and bleed lines when designing and placing your image(s) and check the design for readability, color, contrast, consistency, and scale. This includes font types, images, and all elements of graphic elements.
Packaging printing
In addition to designing your dieline, your printing method also needs to be considered. When using a dieline, the design is printed on one solid sheet, then cut into your custom design. Choosing a printing method that will work best for your design is essential. Images that are text heavy or feature high color saturation require a different printing method than simpler designs.
For more printing tips, check out our troublefree-printing series.
Ritter's Printing & Packaging
With more than 30 years in the industry, our family-owned and operated team is proud to offer free artwork checks, custom die cutting templates, prototyping, and more to ensure the perfect product packing.
We offer printing services that range from marketing materials to direct mail and paperboard packaging. We are proud to provide on-site production and eco-friendly options with fast turnarounds to the tri-county area and beyond.
Give us a call at 954-771-7204 to get started preparing your dieline for printing today.