Packaging Review: Sappi Papers Boxes
Industry: Paper Manufacturer – Sappi

Purpose: Sappi consistently reinforces a message of quality and showcases their expertise in several areas. They are paper manufacturers with the knack for coming up with great ideas and use cases. This time around, Sappi sent along samples of folded carton boxes for gift-giving around the holidays. "Giving is in the Details" themed this selection of work. Our review of this well-timed and beautifully produced selection of gift boxes will explain why.

Paper: Sappi was showcasing their Spectro line of cover stock.

Sustainability: Each box is reusable and recyclable. The paper's certificates include: FSC Controlled Wood, FSC CoC, PERC CoC, SFI CoC. On the bottom of each box, Sappi imprinted "Give Again. Please reuse or recycle". The paper is responsibly produced at their Somerset and Cloquet paper mills, which have among the lowest carbon footprints in the industry.
Printing & embellishments: Let's take a closer look at each of the boxes:
The Folding Carton Boxes are each, an opportunity to explore ideas on some unique packaging techniques and of course, continue to showcase the quality of the substrates, printing, finishes and embellishments on Sappi products. These pieces are conversation starters and show why Sappi is the expert in their product category. The heartfelt theme encourages Sappi's prospects to reach out for advice, questions on technique and creates a desire to replicate the mood created by the products themselves.
Petal box: 16 pt Spectro C1S. This specially shaped box forms a circle of petals on the top when it's folded. When assembled, the box was 5" x 5" x 5". Printed on vibrant red with a geometric pattern. Soft feel UV coating and gloss and satin varnishes. On the side of the box were these words: good things come in small packages. Pedal boxes are perfect for gifts, party favors and keepsakes. Companies can use them for branding as well.
Handle box: 16 pt Spectro C1S. In this case, used as a gift box, it has a handle at the top, making it convenient to carry. Size is 6" x 4" x 4.25". Printed red on one side, teal on the other and the two shorter sides were printed in gold. Special finishes were soft feel UV, and gloss and satin varnishes. There was a different flower on each side along with the words: Something sweet for you. Handle boxes – also known as gable boxes – can be designed in many different shapes and sizes. They are used in a wide variety of industries and can carry items such as packaged food, baked goods, candy, and candles.
Tuck flap box: 16 pt Spectro C1S. This tuck-in flap folding box has a single body consisting of paperboard that is printed full color with the dark teal matching color. An image of a flower was on the top of the box along with the words: Sometimes the smallest things make the biggest impact. The inside flap was also printed in teal. Size was 5" x 5" x 2". Special printing techniques include soft feel UV coating, as well as gloss and satin varnishes. Tuck flap boxes may be used for cosmetics, medical items, gifts and more.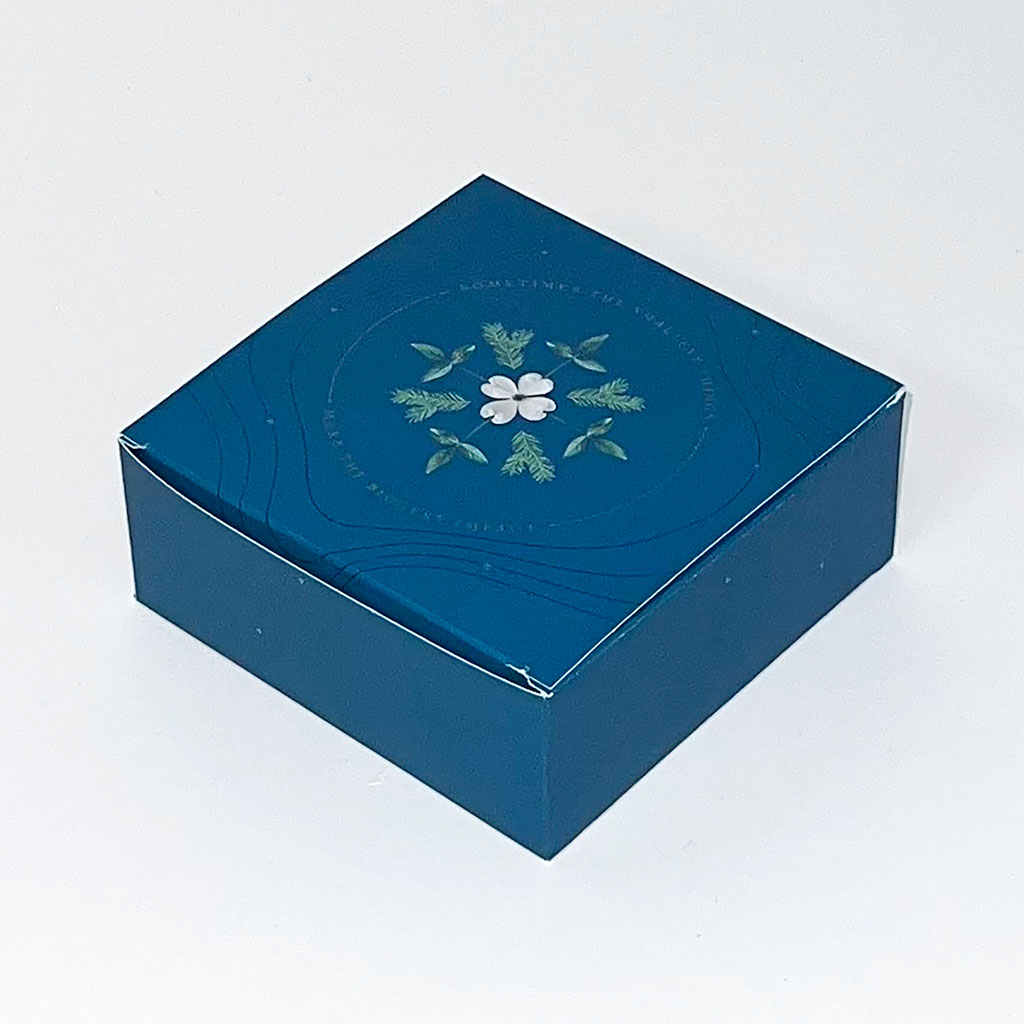 These boxes showcased Sappi papers used for boxes as well as highlighted the printing and design techniques that would inspire prospects and customers to consider creating the same experience for their clients.
For Sappi, care is in the details and these holiday themed sample boxes provided practical applications for the holidays and stunning ideas for consideration. Their theme is very well-represented.
Sappi uses these mailings as an opportunity to stay top-of-mind with their customers, who in turn, can share these ideas with theirs. It's an ulterior motive that benefits all parties but primarily serves as a message that Sappi is there for you. It builds trust and can help build business relationships. Creating value and distributing it consistently, without expectations of a transaction, is the foundation of awareness marketing. It's something companies should aspire to.
Ritter's Printing & Packaging located in Fort Lauderdale offers a variety of sustainability options, from sourcing recycled paper to using environmentally-friendly ink. Call them today at 954-771-7204 to learn more about their range of reusable and recyclable paper boxes.