Who doesn't love a cute face? We know we certainly do! In this direct mailer example, we dissect how non-profit organizations play on peoples' emotions to illicit a meaningful, and almost guaranteed, response.
HOW NON-PROFIT ORGANIZATION BEST FRIENDS ANIMAL SOCIETY EFFECTIVELY USES DIRECT MAIL CAMPAIGNS
Non-profits sure know how to tug on heartstrings and one that is an absolute master at it is Best Friends Animal Society. They are the only national animal welfare organization dedicated to ending the killing of dogs and cats in America's shelters. This emotional appeal is really another way of asking for the donation. Let's take a closer look at a recent Best Friends donor appeal direct mailer example.
Direct Mail Format
An outer 6" x 9" window envelope, along with an eight page 8.5×11" newsletter that was folded in half to 5.5" x 8.5", a return envelope and a 8.5" x 14" appeal letter folded down to 5.25" x 8.5".
Mailer Design
The most interesting aspect of the mailer was the use of photos throughout. The envelope was stunning with a photo of a puppy on the front and a photo of a kitten on the back. The newsletter featured photos of pets along with their story. The interior spread of the newsletter was a collage of baby animal photos and captions. The donor letter included a photo of a cat and her story.
Many of these animals had health or socialization issues but with the help of Best Friends, they found a loving home. Best Friends used orange (same color as their logo) as headlines which really stood out.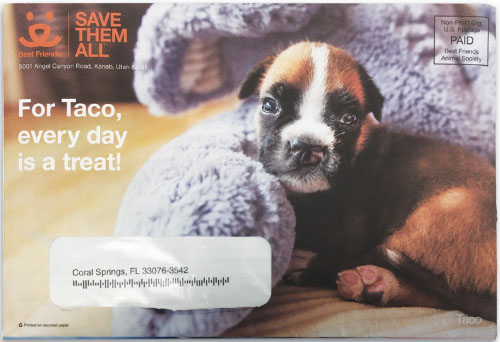 Printing and Paper
There weren't any special printing techniques used, the stock was heavy enough and it arrived in good condition.
Presentation
Best Friends is using this direct mailer to drive donations.
Offer and Call-To-Action
The call to action is to help pets. The help can range from donating items from a wish list by type of animal. For example, bunnies need thick fleece, all terrain pet strollers, top loading pet carriers and carrot and dill rabbit treats. Donors can ship any of the items to Best Friends or can purchase them on Best Friends' Amazon wish list. The other donation offer is to send in a monetary amount which can help fix a dog or cat, vaccinate pets, help a shelter pet find a forever home, provide bottle feedings for orphaned puppies, and wellness veterinary care. There was a special person listed to call for questions on the wish list or to discuss in-kind gifts and a special web address for online donations.
Digital Technology Integration
None but none was needed.
Personalization
The appeal ask was personalized to the level of donation I had made in the past and then a few tiers above, in hopes that I would increase my appeal.
Ritter's Conclusion
After reading the materials and looking at the photos, it's hard to say no to Best Friends Animal Society!
FIND DIRECT MAIL EXPERTS IN FORT LAUDERDALE
If you want to create a thoughtful direct mail marketing campaign, Ritter's can help! With over 30 years of experience, we can help take your ideas and messaging to the next level. Call Ritter's Printing & Packaging today at 954-771-7204 to speak with a local direct mail expert.