Maximizing Your Direct Mail Impact: The Power of Size, Color, and Technique
In the mailbox, what stands out? Size, color, special techniques? All these can help get your mail opened. Let's take a look at some examples of direct mail pieces and see how they performed.
Beautiful design
This example from ZipRecruiter is 5" x 7" so a nice size in the mailbox that stands out from the typical #10 envelope or magazine.
They designed the envelope with a pattern printed in green on both sizes and that matched the design and green ink on the foldover card that was inserted into the envelope. A splash of color can help draw attention to your mailer.
ZipRecruiter also used a presorted stamp so there was no indicia. The stamp was meant to look like a regular stamp rather than "junk" mail. This allows marketing postage without the marketing mail "look".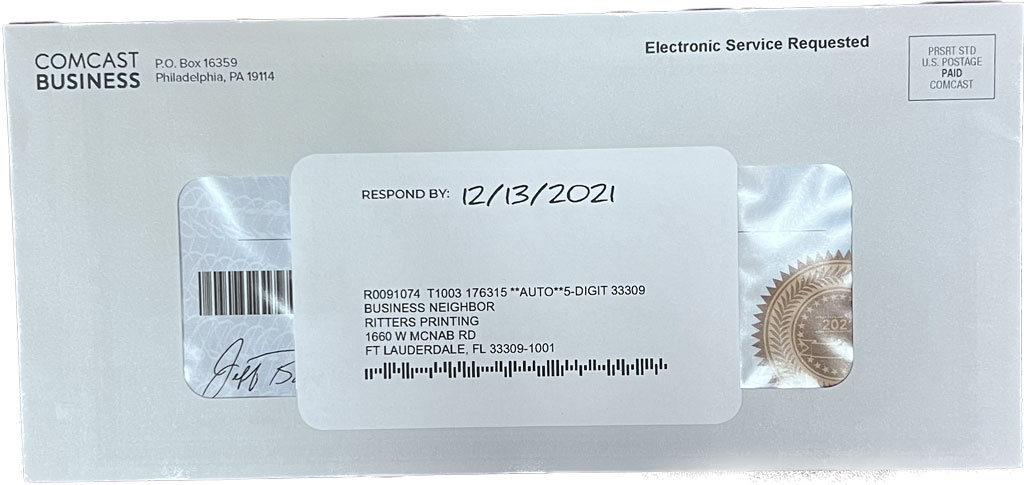 Sense of urgency
Comcast sent a #10 window envelope with a label over the window. The label had all the mailing information but the part that stood out was the wording: "Respond by 12/31/2021" which created a sense of urgency to the mailing.
The urgency factor is meant to prompt immediate consumer action. The label over the large window also looked a little different and in the sea of mail, looking different can mean the difference between a piece being opened…or not.
Unusual appearance and shape
BHG Loan mailed a 7" x 9" Fed Ex style envelope made of chipboard. The size is sure to be noticed in the mailbox as well as the unusual stock.
The envelope appears to be recycled paper and it is made from thick cardboard so it feels substantial. The envelope opens with a pull tab.
Most mail is #10 size so there is a real opportunity to catch someone's eye with a seldom used size. This flat size costs a bit more but standing out can be worth it.
Large size
BHG Money used a 9" x12" manila envelope for their campaign. The large size coupled with the manila colored envelope is really noticeable.
BHG Money opted to use a label for the mailing requirements rather than inkjetting directly on the envelope. This looks a little less automated, which makes consumers feel like it is more personal.
Use all the techniques you can
Bottom line advice is to use every trick in your arsenal to stand out and get opened. While some of these examples might cost more than a #10 envelope with black ink, it's hard to argue about the ROI.
Direct Mail Company In South Florida
At Ritter's Printing & Packaging, we have been helping businesses grab the attention of potential customers through direct mail campaigns for over 30 years.
Our team's proficiency in design, formatting, printing, data, personalization, and mailing services covers all the essentials needed for a successful campaign.
Give us a call today at 954-771-7204 to discuss your next project, we are happy to answer any questions you may have.