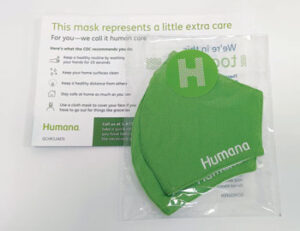 The coronavirus has shown all of us that we need to be offering help to our clients rather than trying to sell to them. A recent mailing from Humana is a great example of offering something to the end-user without asking for anything in return. Let's take a closer look.
Format: The mailer consisted of an outer 6" x 9" outer envelope with a pull tab to open, a two-sided card with English text on one side and Spanish on the back, and a 5.75" x 7 1/8" clear plastic bag that had printing on one side and included two green masks. This piece is more than ¼" thick and is considered a large envelope or "Flat" mail.
Design: I loved the envelope and the use of the Humana green. One suggestion would be to make the entire envelope green, not just the one side. When consumers reach into their mailbox, they see the address side first and do not always turn the mail over. Making the address side would require using a white label and would cost more but I feel the impact on end-users would be worth the additional expense. The rest of the mailing followed the green color with green being the highlighted color. The card used green on both sides and even the bag's printing included some green. The two cloth masks were even made of green fabric!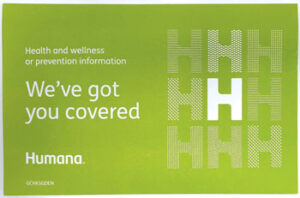 Printing & Paper: Humana actually printed on cardstock for the envelope which is unusual, but it was done to hold the mask…need your help here Bill. The card was an 80# non-gloss cover and the plastic bag was sturdy enough to hold two masks firmly in place.
Presentation: The direct mail envelope felt thick which is always a reason to open it to see what's inside. Bulky direct mail results in higher response rates. The cardstock envelope provides added durability to the contents during mail processing as well as preventing envelope breakage that may occur with a normal paper envelope. This additional cost is not truly optional as the post office would require it.
Purpose: Humana is a health insurance company and is trying to keep their clients safe during the pandemic. The card lists CDC guidelines for staying safe. The masks are reusable and include care/washing instructions.
Offer and call to action: The offer was the gifting of the masks and the hope that people will use them. The call to action is to call Humana with any CDC/Covid questions or visit their website for more information. In addition, Humana will also help their clients arrange for a Covid test. It makes financial sense for Humana to keep their clients healthy as in the long run, medical costs could cost Humana.
Digital technology integration: None but none was needed.
Personalization: None but none was needed as clearly, Humana was sending this kit to its clients.
Overall, a great direct mail campaign that can really help the end-user. Everyone needs masks in today's world and because Humana sent two, the end-user can either use themselves or share with a family member or friend. The wording used by Humana was appropriate as well: they used phrases like "We're in this together" and "This mask represents a little extra care".